Le 5 mai 2017, 04:49 dans Humeurs • 0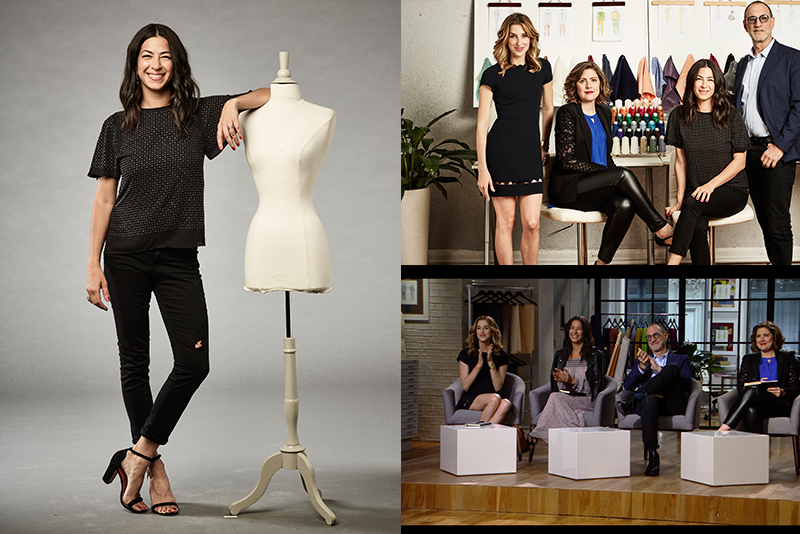 (Photo:unique formal dresses)
Aspiring entrepreneurs take a bold step into the world of fashion on Lifetime's all-new series, "Project Runway: Fashion Startup," premiering on May 18.
In this new show that airs Thursdays at 9 p.m., some of the creative minds behind different fashion and beauty start-ups pitch their innovations to a panel of seasoned expert investors, whom they must impress enough to invest in their dreams.
With the global apparel market valued at around $3 trillion, investing in fledgling enterprises comes with a high reward—and even higher risks. These participants must prove that their ideas are not only cutting-edge, but also marketable in a highly competitive industry.
The show presents the side of fashion that consumers seldom see—the equally fascinating process of building brands. Budding entrepreneurs on "Project Runway: Fashion Startup" must demonstrate that their ideas can hold up to changing trends and global economic shifts. While many may view fashion as frivolous, the series shows just how serious of a business it is.
Renowned designer Rebecca Minkoff is one of the style magnates on the panel of experts looking for entrepreneurs whose innovative ideas are financially viable and backed by a solid marketing plan.
Fashion designer and icon Tommy Hilfiger and SoulCycle co-founder Julie Rice will also be making special appearances on the show, to share their wisdom and dole out some tough love when it is called for.
An industry leader in accessible luxury handbags, accessories, footwear and apparel, Minkoff has come up with playful and subtly edgy designs that can be spotted around the globe on young women and celebrities alike.
In her website, Minkoff recalls that after developing an affinity for design while in the costume department in high school, she moved to New York City at only 18 years old to pursue her dream of becoming a fashion designer.
In 2001, she designed a version of the "I Love New York" T-shirt as part of a five-piece capsule collection, which appeared on the TV show "The Tonight Show" and became an overnight sensation.
In 2005, she designed her first handbag, which she soon dubbed the "Morning After Bag," a.k.a. the "M.A.B." This iconic bag ignited her career as a handbag designer and inspired her "downtown romantic"-themed designs in the years to come. Her success was further fanned by the support of her brother and the company's chief executive officer and co-founder, Uri Minkoff, who helped usher in and pioneer the company's industry-leading social media efforts.
After four years of designing statement-making handbags and accessories with her trademark leathers, studs and edgy hardware, Rebecca returned to her roots of apparel design and introduced her first ready-to-wear collection in 2009.
Today, Rebecca Minkoff is a global lifestyle brand with a wide range of apparel, handbags, footwear, jewelry, accessories (including tech) and athleisure, as well as men's clothing and accessories under the label Uri Minkoff. The brand has three domestic retail stores and two international locations, and is distributed in over 900 stores worldwide.
In 2011, Rebecca won industry recognition when she was awarded the Breakthrough Designer Award from the Accessories Council. She is an active member of the Council of Fashion Designers America and supports multiple philanthropies, including Jessica Seinfeld's non-profit, Baby Buggy.
Rebecca is married to actor and director Gavin Bellour. They live in New York City with their son, Luca, and daughter, Bowie.
In a recent interview with Philstar, Rebecca shares the challenges she faces as a designer and what aspiring ones can do to "make it work" in the ever competitive fashion world.
What motivated you to start your own label?
"What gave me the desire was working for another designer and I knew I wanted to have my own label and I knew that eventually after working for this designer for three years, if I wanted to keep doing this and keep working this hard, I decided it should be my own company."
What are the top 5 qualities that you look for in a "Project Runway" winner?
"A solid business plan. A great product. An entrepreneurial spirit. Being tenacious and knowing that failure wouldn't inhibit someone's success."
What are the chances of startups to become successful today in the face of many fashion brands?
"I think there is definitely opportunity for success. Finding a white space, finding a core consumer. I think that now more than ever consumers aren't as loyal as they were years ago to a brand. It's really about cultivating a tribe of people who aspire values and being the brand that satisfies whatever that is for them."
To you, what does it mean to be a female entrepreneur?
"You know what's interesting is that I don't think of myself as a female entrepreneur. I realize now that I am one, but I think that I see myself as an entrepreneur that had a dream and a passion and wanted to start it. And as I you know had success, you fear more and more that female entrepreneurs are less percentage-wise , but I think first and foremost, all women think of themselves—who are entrepreneurs—they think of themselves as doing what they love."
How important is digital to your brand and business?
"Digital is everything. It's how we grew our platform. It's growing to become our main focus, because you can have a direct one-on-one connection with your consumers. You get to own the customer from the beginning through the lifespan of that relationship and that's more valuable than anything."
Based on your experiences, how can startups progress from small players to global brands just like yourself?
"I think that you have to have a clear vision, be able to identify what your product is and have a good branding and know what you don't know. I think it's very important to surround yourself with people that have strengths that you don't have so that when you're going out to the fight you have strengths all around."
What are the obstacles that you had to overcome and how did you do that?
"Millions. I don't even know where you want me to start. Lack of financing. Lack of acceptance from you know from certain stores and certain magazines. Production issues, equality issues. You name an issue and I can tell you we've had them as a company. I think each time something catastrophic happens, I think it's standing together, figuring out the solutions to the problem, surrounding yourself again with people who know more than you or who know different than you and utilizing that strength to solve your problems."
Do you take risks to push your brand forward and why?
"I think we built our brand by taking risks and now we embrace the risk. We started talking to our consumer before that was allowed or acceptable. We started working with bloggers before we were told we should. We changed fashion week so I think we feel very comfortable taking risks and we've seen great success by doing so."
How's the fashion landscape today and how has it changed since you started?
"The fashion landscape has changed tremendously. It used to be that fashion week was just for editors – now it's for the whole world. It used to be that you wouldn't see the images from fashion week. Everything is moving away from an in-store shopping experience to online. In-store experiences are trying to figure out how to make a difference, optimizing the experience for consumers. I think e-commerce has changed how people shop and interact with products."
How do you come up with fresh ideas for a label?
"I think the key is to constantly exposing yourself to whether it's art or music or a good book or vintage shopping. I think constantly looking at new things. I'm lucky that I get to travel for what I do. So constantly being in new cultures."
What part of your job would people find most surprising?
"I think people would find it surprising—I think it looks glamorous all the time. I think people think that it's always easy or you could Uber your way to success and I think the hard work, the late nights, the gray hairs. They shouldn't be surprised but they often are."
What is your advice for aspiring fashion designers?
"I think that you need to be persistent. I think you need to find a white space. You need to figure out what makes you different, what makes you special and why should someone want to buy you over the other zillion brands that exist. And when you discover that, that's a really good thing to know before you start out."
What is that one thing in your career that you have regretted the most?
"I think for about two years we decided that when we launched our apparel that it needed to be very high concept and we stopped talking to our customer when we did that and I think we should've just made saleable, pretty clothing, that everybody wants to wear. We do that now but you know we made that mistake in the beginning."
How helpful is being with "Project Runway" to the growth of your brand and what direction are you seeing your brand going in the near future?
"I think we're really focused on as much of the direct consumer relationship as possible whether it's our own store or e-commerce and continuing to expand the brand and to new countries."
How helpful is "Project Runway" to the growth of your brand?
"The exposure is amazing. People continue to recognize the brand because of it."
How do you feel about being one of the expert panelists on "Project Runway Fashion Startup"?
"It was a great honor. It was really fun and I'm excited for it to continue."Read more at:cocktail dresses australia