Le 24 mai 2016, 08:54 dans Humeurs • 0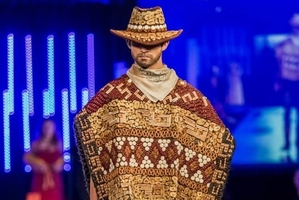 (Photo:formal dress)
After entering the Hastings Pak'nSave Edible Fashion Awards as a 13-year-old student, Tessa Paaymans never dreamed she would be showing her designs at New York Fashion Week just eight years later.
The former Karamu High School student said she only entered the awards as "as a fun project to fill in time during the school holidays". Winning the supreme award in her first year of entering was a "huge shock" for the young designer, something she credits with kick-starting her passion for design.
Inspiring would-be designers, both young and old, is one of the primary aims of the Hastings Pak'nSave Edible Fashion Awards. Now into its 11th year, the awards ask participants to create an innovative garment made entirely from edible food items, imitation food items or food packaging.
Winning designs are showcased at an extravaganza held at the Hawke's Bay Showgrounds, culminating with the announcement of the Designer of the Year.
Following her success, Tessa was inspired to enter other fashion and design competitions around the country, winning a number of accolades along the way.
After finishing her schooling, Tessa completed a two-year certificate in fashion apparel at the Eastern Institute of Technology, followed by a two-year Diploma in Costume Construction at Toi Whakaari New Zealand Drama School in Wellington.
Tessa's world was turned upside down last August when she received an email from Oxford Fashion Studios in the United Kingdom. After coming across her designs on her personal website, the runway show producers invited her to show six of her designs in the Concept Design Show at New York Fashion Week.
Meanwhile, for Hastings Boys' High School student Murray Pryce, being "discovered" as a potential male model was definitely not part of his life plan either.
Murray first entered the awards in 2014 with a group design called "The Patriot". Reluctantly agreeing to model the garment, Murray was shocked when their entry took out the top prize in the senior division and was placed second in the overall competition.
Following the 2014 success, Murray was convinced to model another garment for the 2015 Edible Fashion Awards. Despite his lack of modelling experience, he caught the eye of flamboyant television presenter and judge Colin Mathura-Jeffree, who encouraged him to talk to modelling agencies in Auckland.
A whirlwind of appointments and photo shoots followed, which culminated in Murray entering the "HITO Hot New Talent" competition, as part of New Zealand Fashion Week.
Being chosen as one of the five nationwide finalists confirmed Murray had "the look" as well as the talent to take his modelling career further. Being invited to walk two runway shows as part of the 2015 New Zealand Fashion Week, despite suffering from a bad dose of the flu, was an experience he describes as "surreal".
Modelling was never on the horizon for Murray, who describes himself as a regular, sport-loving Kiwi guy.
Event organiser Odette Bowyer says they are now focusing on growing the awards into a nationally recognised event and attracting a greater number of entries from outside the region.
Keeping the awards fresh is also a priority, with new judging categories being added such as the the Unio Goldsmith & Gallery Jewellery and Accessory Award for the most innovative jewellery and accessories.Read more at:formal dresses sydney